Ah, chicken arts and crafts. Our pal Allen was our chief supplier, once. Another post is going up detailing the "haul" of chicken paraphenalia we have CULLED and LEFTOVER from the entirety of what he swept thrift stores to find.  A separate post will tackle what Allen sent us – not everyone is fortunate enough to have an Allen.
For everyone else – there's Etsy community take on chickenry. Jason's first etsy.com purchase was in fact chicken-related and since then, outside of occasional gifts for me, it's been chickens all the way down. Here are a few I liked from a recent search for fun chicken stuff.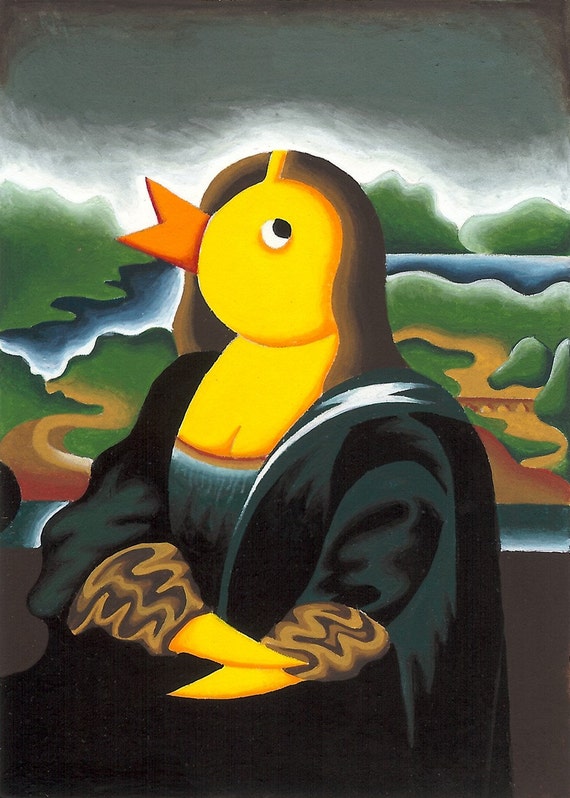 Buy this charming poster at: http://www.etsy.com/listing/56897813/mona-lisa-chickensupersized as well as other fine chicken artwork by mrchicken.
Etsy's crafters that work with the chicken motif tend to have these variations: country-style, where if you have that kind of home the handmade item fits right it, ironic/iconic, and then children's/goshdarncute.
A few examples of goshdarn are:
Aimee's Homestead – http://www.etsy.com/shop/AimeesHomestead?ref=seller_info
She has other more dignified tea cozies but I felt this epitomized the crazy chicken feeling of modern life.
The above tea cozy listing is at http://www.etsy.com/listing/65137204/chicken-tea-cozy
This is not a painting of a wall and chair – the little chicks are vinyl cutouts by circlelinestudio you can buy to apply to your wall!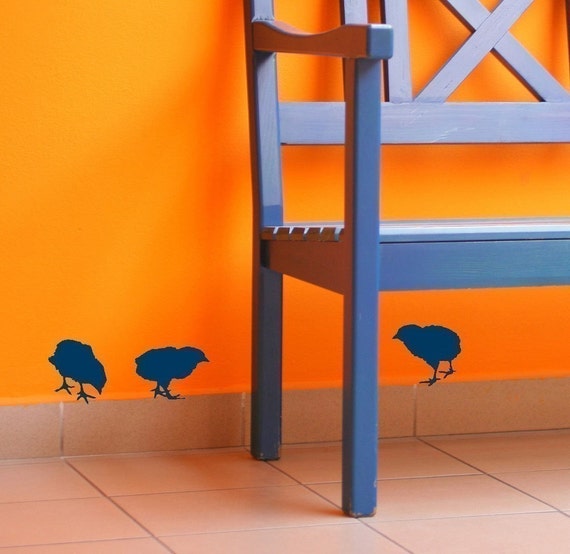 This vendor ACJInspiration sells the egg as well as the vinyl chicken:
And finally, of course, there's the mobile art form known as the t-shirt. Etsy had many, but for all the dudes out there manfully shoveling chicken poop into the compost heap, here's one for you by Happyfamily
You can buy this shirt here: http://www.etsy.com/listing/61501235/new-rooster-urban-farming-mens-cranberry